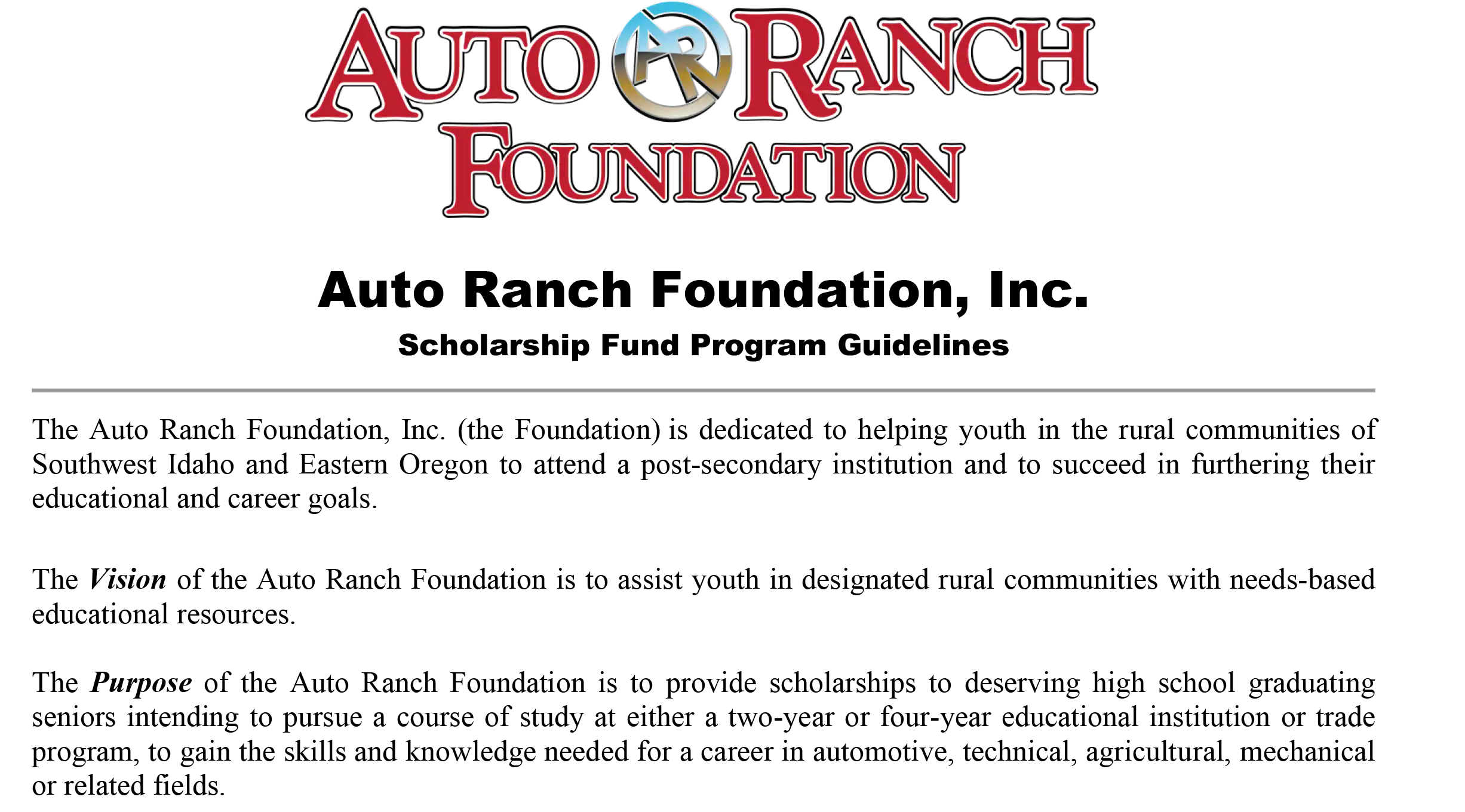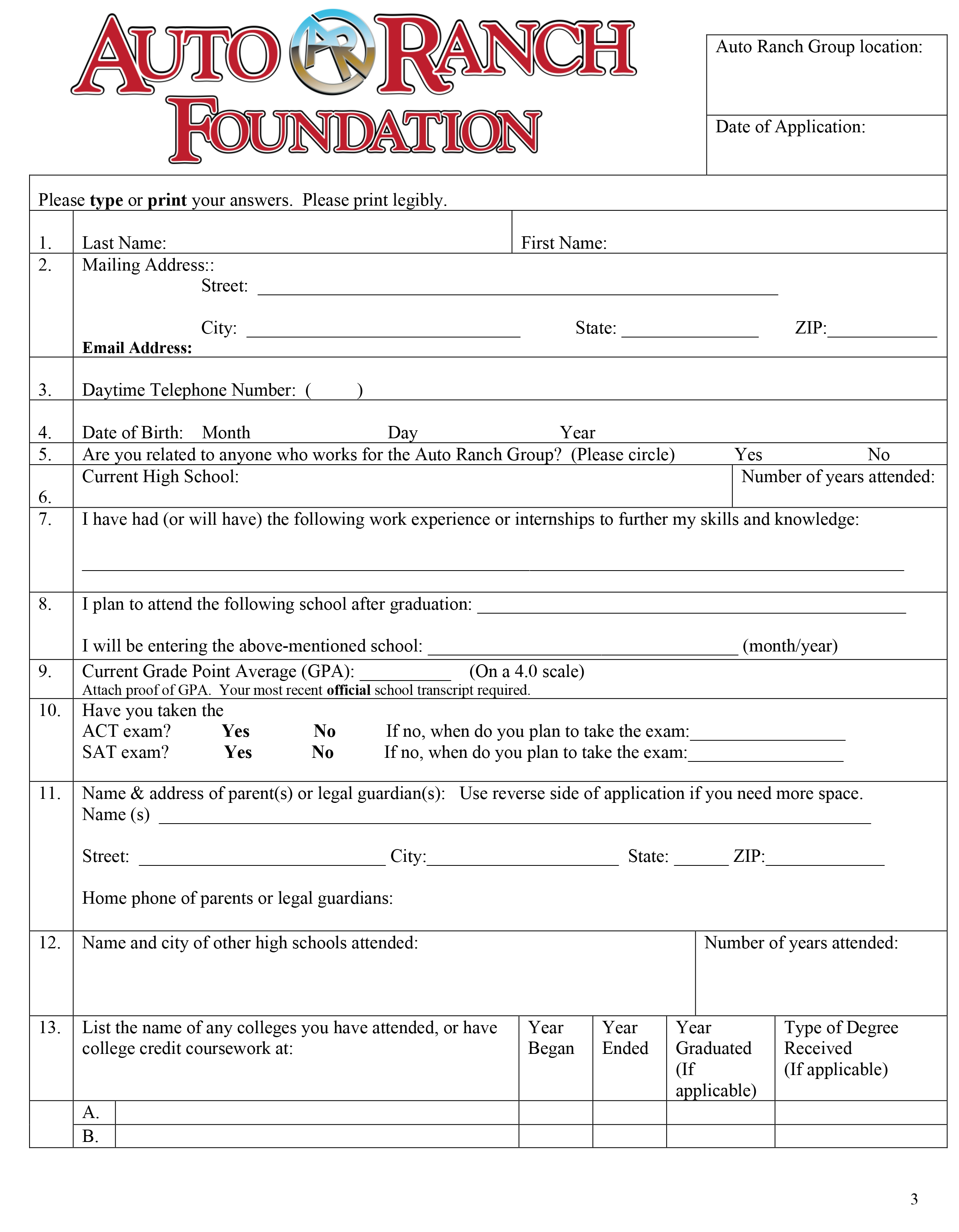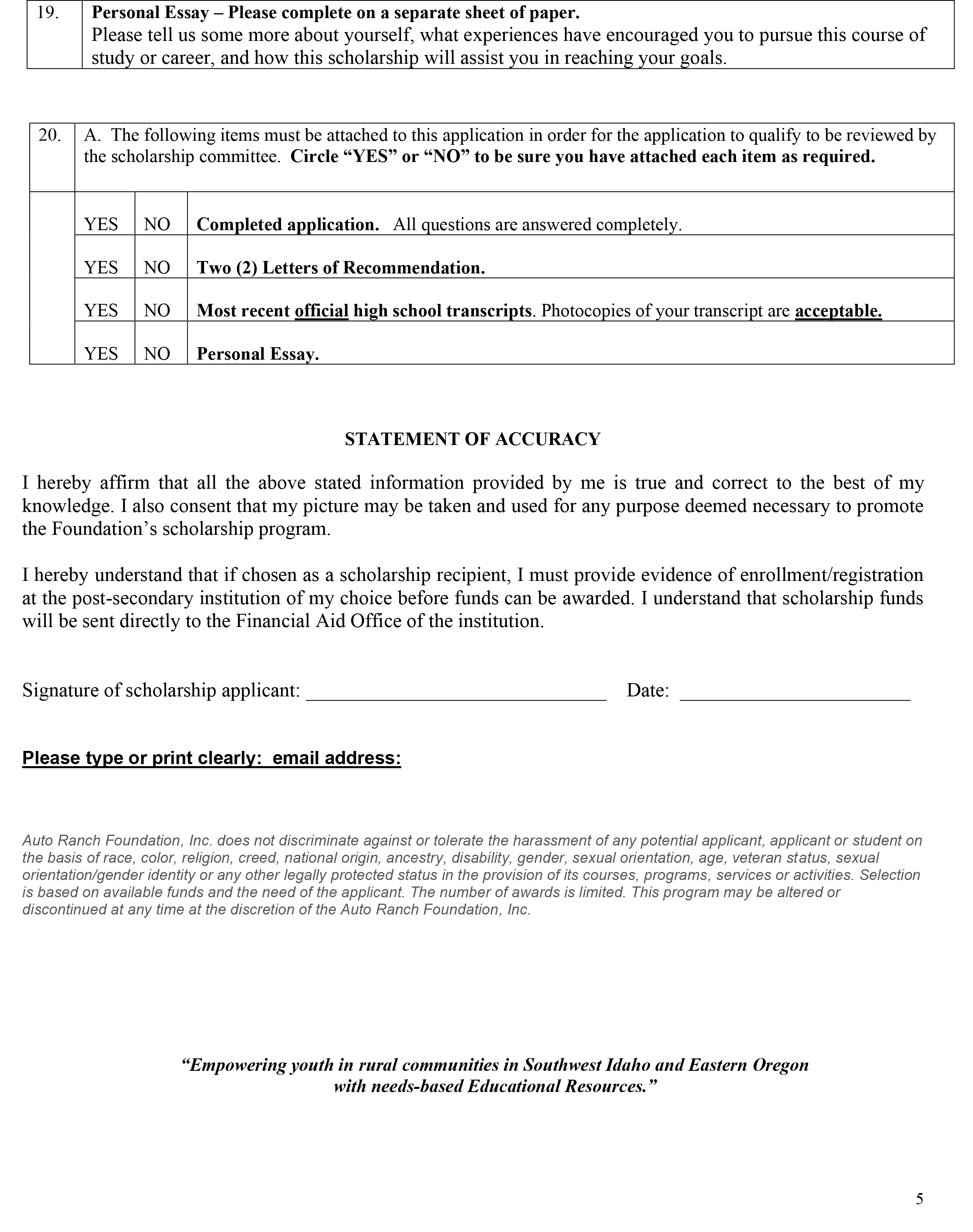 The Auto Ranch Foundation, Inc. (the Foundation) is dedicated to helping youth in the rural communities of
Southwest Idaho and Eastern Oregon to attend a post-secondary institution and to succeed in furthering their
educational and career goals.
The Vision of the Auto Ranch Foundation is to assist youth in designated rural communities with needs-based
educational resources.
The Purpose of the Auto Ranch Foundation is to provide scholarships to deserving high school graduating
seniors intending to pursue a course of study at either a two-year or four-year educational institution or trade
program, to gain the skills and knowledge needed for a career in automotive, technical, agricultural, mechanical
or related fields.
Criteria and eligibility:
    1. Applicant must be a graduating high school senior in the year of the award.
    2. Applicant must have at least a 2.0 grade point average (or a "C" average).
    3. Applicant must demonstrate community involvement, improvement in academics, and desire to further
    their education.
    4. Applicant must have a desired major in automotive, agricultural, technical, mechanical or related field.
    5. Applicant must demonstrate financial need.
    6. Applicant must reside in a designated rural community in Southwest Idaho or Eastern Oregon.
General Instructions:
    1. Refer to application process below for a list of the supporting documents needed (i.e., reference forms,
    evidence of GPA, etc.) Incomplete applications will not be considered.
    2. If any question does not apply to you in this application, please put N/A in the space.
    3. Please type or print legibly.
    4. If you have any questions about the application, please call the Foundation Office at (208) 858-5200.
Application Process:
    Applicant must submit the following items:
        1. Completed application form (if handwritten, please print legibly)
        2. Two (2) letters of recommendations from choice of high school teachers, administrators,
        counselors, employers, or individual with significant knowledge of applicant's experience and
        involvement.
        3. An official and recent high school transcript with cumulative grade point average and a class
        standing/rank.
        4. Personal Essay telling us a little bit about yourself, your education and career goals
        (college/university/trade school, intended major, and anticipated start date), what experiences
        have encouraged you to pursue this course of study or career, and how this scholarship will assist
        you in reaching your goals. The essay should be approximately one (1) page.
        Application period is from January 1 through March 31 of each year. No applications will be accepted after
        April 15. The Board of Directors will evaluate applications and award scholarships by May 31. Applicants will
        be notified by email of the Board's decision.
Please submit application by mail to:
Auto Ranch Foundation
2289 S. Bonito Way, Suite 100
Meridian, ID 83642
Please download or print out the form
.